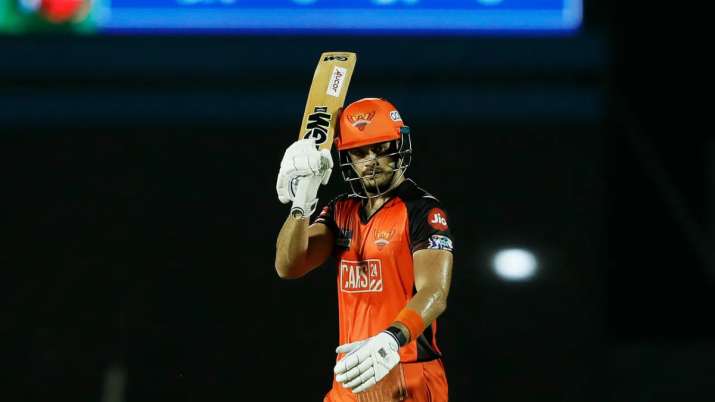 It has been a pleasure to bring you all the action. Tomorrow promises to be another cracker with two big games lined up. Until then, take care. 
Man of the match: Rahul Tripathi
A special mention to Rahul Tripathi today. He came in when the team was under a bit of pressure, and then played one of his best IPL knocks. He holds the key for SRH this season.
KKR has now lost 2 matches in a row, and they have some questions to answer. The lack of an extra bowling option hurt them today as Varun was punished by Markram & Tripathi. SRH, on the other hand, have put all their critics to rest with three wins on the trot. 
SRH win by 7 wickets: Alright, Markram is in a hurry. Great shot for four over deep mid-wicket followed by a massive six in the same region. SRH now thinking about the NRR. What a turnaround it has been for them after the two initial losses. And he finishes off the game with another six. A magnificent effort from Rahul, Markram, and SRH. A lot of positives for them. 
SRH 158/3 after 17 overs: Sunil Narine comes back into the attack. Run a ball game for SRH. Half-century for Markram. He has been terrific today. Deserves all the praise. Just 18 runs are required for SRH to win this.
SRH 153/3 after 16 overs: Varun is back into the attack, and this over has almost killed the chase. Markram & Tripathi has punished Varun, and this over was no different. Four followed by a six, 13 over from the over, and SRH are nearly there. 
Alright then, SRH need 36 from 30 balls to win this. Honestly, it's their game to lose now.
OUT! Rahul Tripathi is out caught. Finally, Russell gets the big man. Massive wicket for KKR. Rahul was looking even more dangerous now after that first ball six vs Russell.
SRH 127/2 after 14 overs: Umesh Yadav is back into the attack. KKR's search for a wicket continues. Tripathi is getting a little tired now. Hasn't been able to get the ball away for a while now. Now then, Markram gets one away in a rather cheeky manner. Was looking to pull the short ball. manages a top edge, that goes to the boundary to fine leg. Another boundary from Markram. What. A. Shot. Just a punch to deep to extra cover. Wait, there's more, a replica of the previous shot, just much better looking. SRH is on the move here. 
SRH 113/2 after 13 overs: Another quiet over for SRH. Narine has been tight with his lines. THE RRR has now climbed to 9 per over. 
SRH 109/2 after 12 overs: Pat Cummins is back into the attack. KKR need a wicket. Good change but Iyer was expecting a wicket from Cummins there. Quiet over nonetheless. 
SRH 95/2 after 10 overs: Varun is being taken to the cleaners here. Shreyas Iyer will be thinking of doing something different now. Same story as his last over. This time it's Markram who hits a six followed by a four. Tripathi takes a single off the last delivery to complete his fifty. He has been a revelation of SRH this season. 
SRH 77/2 after 8 overs: Varun Chakravarthy comes into the attack, and there's the moving over SRH were looking for. Tripathi has been the man for them this season so far. A boundary followed by a six to long-off. Wow. Wait a minute. Here's one more. Another maximum. Varun under the pump here. 
OUT! Massive wicket for KKR. Williamson is back in the hut. Out bowled Russell gets him. Kane isn't happy with himself, and rightfully so. The ball kept a little low, and Williamson was a little early into the pull. The ball takes the inside edge of the bat and crashes onto the stumps. SRH under pressure now. SRH are 46/2 after 6 overs. 
SRH 27/1 after 4 overs: Interesting over that from Cummins. First a lovely lofted drive for four from Tripathi, and then a short ball from Cummins that beat everyone including the keeper to the boundary. 
SRH 15/1 after 3 overs: Another quiet over from Yadav except for that boundary first-up.  
OUT! Cummins comes into the attack and knocks over Abhishek Sharma. A short ball that jags in a little. Sharma was undone by the movement and is out bowled. KKR are 9/1 after 2 overs.
SRH 3/0 after 1 over: A very quiet start for SRH. Yadav was right on the money. 
Alright, It's time for the chase to start. KKR has enough on board if they bowl well. The pitch has something in it for the new ball bowlers. Umesh Yadav to start the attack for KKR. Abhishek Sharma is on strike. Here we go.
KKR 175/8 after 20 overs: Aman Hakim Khan is out Bowled. Good start of the over for SRH. Now then, Russell pulls the shortish delivery by J Suchith for a six. Another six. This time over long-on. So much power behind that shot.  Finishes it off with a boundary. Russell ends with 49 off 25 deliveries. 
Good for SRH as Russell won't be on strike at the start of the last over. Let's see how it goes.
OUT! Cummins couldn't hit Bhuvi well enough, and he has holed it out to Marco Jansen at long-off. KKR are 158/7 after 19 overs.  
Natrajan to Rana. SRH feels Rana has edged it to the keeper. Umpire is not interested. SRH takes the review. Ultra-edge shows a clear spike when the ball is next to the bat and Rana is out. Big blow for KKR. 
KKR 138/5 after 17 overs: Kumar is back into the attack. Cheeky from Russell. Bhuvi bangs it short and he just guides it to the third man for a Boundary. Great comeback from Bumrah. Yorker is right on the money. Russell is on the move here. Six. Just launches it over mid-off for a six. Another yorker. What a contest this is. Well, Russell responds with another maximum. Blockbuster over. 
KKR 122/5 after 16 overs: Umran Malik vs Russell – This one will be interesting. Three strong balls from Malik to Russell. Wow! Excellent over from Malik. Just two runs for KKR. This boy is for the future. 
KKR 114/5 after 14 overs: Russell is in for KKR now and he means business. He Pulls Jansen for a six over deep mid-wicket. A lot of muscle on that shot. 
Malik has his man. He goes short, Jackson looks to pull it, but just manages a top edge which flies over to fine leg where Natrajan takes the catch. KKR are 103/5 after 13 overs
Malik is being taken to the cleaners here. First Nitish Rana hits him for a six, and now Jackson joins the act. Terrific six to backward square leg.
KKR 88/4 after 12 overs: Natrajan comes back into the attack and Rana says he's had enough. Absolutely smacks the first ball of the over towards deep mid-wicket for a six. He has started to play his shots now. Lofts this one over extra cover for a lovely boundary. 
J Suchith to Nitish Rana. Hits him on the pads. The umpire isn't interested in the appeal, but SRH wants a review. No bat on ultra-edge and the ball is missing wickets. SRH lose a review. Rana survives. KKR are 75/4 after 11 overs.
OUT! Malik comes back into the attack and knocks out Nitish Rana with a 148 km/hr searing yorker. What. A. Ball. KKR are 70/4 after 10 overs. 
KKR 66/3 after 9 overs: Jagadeesha Suchith comes into the attack and dishes out a freebie first-up. Iyer sweeps it to fine leg for a boundary. Another poor delivery. A repeat of what he offered Iyer on the first ball. Rana, like Iyer, helps it to fine leg for a boundary. 
KKR 57/3 after 8 overs: Shashank Singh comes into the attack. What a shot from Nitish Rana. He steps out and just lofts the ball for four over extra cover. Another good shot, but he'll just get a couple of runs this time.
KKR 47/3 after 7 overs: Nitish Rana spoils the over for Malik with a last-ball boundary. Good shot. Used the pace well there. 
Umran Malik comes into the attack. 
KKR 38/3 after 6 overs: Jansen to bowl last over of the powerplay. The bowler overpitches, and Iyer makes him pay. He can smack you all day if you bowl there. Lovely boundary. 
OUT! Narine comes, hits a six, and perishes. Natrajan is turning it on. KKR is 31/3 after 5 overs. SRH on top. 
OUT! Natrajan comes into the attack and gets rid of Venkatesh Iyer. Bowled him. 
KKR 25/1 after 4 overs: Jansen to continue from the other end. Oh, what happened there. Jansen bowls a short ball, Shreyas was getting out of the way but somehow managed to get some bat on it. Cheeky Boundary for Shreyas. Jansen is firing bullets in Mumbai. What an over!
The pitch has something in it for the bowlers. KKR needs to be careful not to lose too many wickets inside the powerplay. 
KKR 19/1 after 3 overs: Shreyas Iyer is the new batsman, and he is off the mark straightaway with a drive. Now Venkatesh looks to drive, the ball takes the edge and runs away for a boundary.
OUT! Aaron Finch & IPL doesn't make a good T20 story. Poor shot from Finch. He tried to power it through mid-on. The ball zips, takes the edge, and Pooran does the rest. Early breakthrough for SRH. KKR are 12/1 after 2 overs. 
Jansen to start from the other end. 
KKR 9/0 after 1 over: A couple of singles to begin with. Kumar is swinging the ball, and Finch is stepping out of the crease to deal with it. The demons are real for Finch. Well, spoke too early. This time, Finch stays still and just lofts the ball over long-on for a six. Terrific hit. 
Alright, Sunrisers are out in the middle. Venkatesh Iyer & Aaron Finch are out for KKR. Bhuvneshwar Kumar will open the attack. Iyer is on strike. Here we go…
Meanwhile, King Kohli is all focussed at the nets
Player battles to watch out for:
Venkatesh Iyer vs Marco Jansen
Aaron Finch vs Bhuvneshwar Kumar
Andre Russell vs Umran Malik
Aaron Finch
Feeling very good. The boys have gotten off to a really great tournament. It is a great franchise to be a part of. I think I bring some experience to the top of the order. My game has been really good coming from Pakistan and over the last few days. It is a really consistent group. They play really aggressively. Shreyas is leading is calmly with McCullum. There is a bit of movement with the new ball at all venues. If you have to win the tournament, you have to win after batting first at some stage.
Kolkata Knight Riders Playing 11
Aaron Finch, Venkatesh Iyer, Shreyas Iyer(c), Nitish Rana, Andre Russell, Sheldon Jackson(w), Pat Cummins, Sunil Narine, Umesh Yadav, Aman Hakim Khan, Varun Chakaravarthy
Team Changes:
Aman Hakim Khan & Aaron Finch makes their debut for KKR. Sheldon Jackson is back as well. 
Sunrisers Hyderabad Playing 11
 Abhishek Sharma, Kane Williamson(c), Rahul Tripathi, Nicholas Pooran(w), Aiden Markram, Shashank Singh, Jagadeesha Suchith, Bhuvneshwar Kumar, Marco Jansen, Umran Malik, T Natarajan
Team Changes:
Washington Sundar isn't fit yet, Jagadeesha Suchith is playing for SRH
Sunrisers Hyderabad have won the toss and have opted to bowl
Pitch Report by Simon Doul
Looks like a magnificent surface. Lovely grass coverage on it, all that does is just give it a really nice pace. Good sound to it – nice and hard. Good pace, good bounce. Batters have made the most of scoring runs in the early stages here. It's harder to score in the death overs. Dimensions – 68 metres on one side away to point – not a very big hit down there at all and over third man it is very small. But 81 metres to the leg-side and a huge hit out to cow corner. Bat first, put runs on the board and if you get 185-190, you'll be okay. It's a really good surface. Don't worry about batting first.
In case you were wondering, KKR does have an edge over SRH. The Knights have defeated SRH 14 out of 21 times they have squared off against each other.
Till the match begins, check out what Kuldeep Yadav has been upto..
Welcome to the live blog of the match between SRH and KKR.
Both teams take the field today with opposing results in their previous matches. Sunrisers Hyderabad seems to have found their rhythm with two wins in their last two games.KKR, however, lost to Delhi Capitals in their last match. 
While Sunrisers Hyderabad would want to continue their momentum, KKR will look to get back to winning ways. 
Stay tuned. The match promises to be an absolute cracker.